Shiba Himitsu 
 
Born:
Unknown 
Died:
(c. 1121)
People
Shiba Himitsu was the heir of Shiba Ujimitsu, the Phoenix Clan Champion.
Phoenix Champion's heir
Edit
Himitsu was a young Phoenix Lord, and it was said the Phoenix Clan Champion Shiba Ujimitsu was training the young lad to follow in his own footsteps. [1] Himitsu had been born as a bastard, and he was haunted by this fact. He used sake as a relaxation technique, [2] and was a fierce duelist. [3]
Setsuban festival
Edit
Himitsu witnessed [4] a shugenja Setsuban Festival Tournament at Ki-Rin's Shrine. The Emperor Hantei XXXVIII had announced his niece Otomo Yoroshiku was ellegible for marriage in the festival. [5]
Asako winter court
Edit
In 1121 Himitsu accompanied Ujimitsu to the Asako winter court at Shiro Gisu. [1]
Testimony
Edit
Himitsu guessed Yoroshiku knew his bastardly lineage, and hated her for that. [2] During an improptu poetry contest Himitsu accused Yoroshiku was not of the imperial line. Another suitor samurai, Ryuden, challenged him to a duel. He would sponsor the testimony of the ronin bandit Niban, who had passed him this information. [6]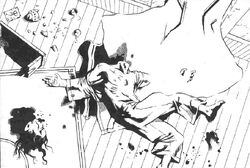 Unfortunately, Himitsu was murdered by Kakita Nantoko, a Scorpion spy in Crane guise, and agent of the Lying Darkness, before Niban could testify. Nantoko was Yogo Bashiko, a shadow branded Shosuro Assassin who morphed into Ryuden to commit the murder. [7]
References
↑ Code of Bushido, p. 31
↑ Code of Bushido, p. 13
↑ Code of Bushido, p. 5
↑ Code of Bushido, pp. 24-26, 29
↑ Code of Bushido, pp. 26-27
Ad blocker interference detected!
Wikia is a free-to-use site that makes money from advertising. We have a modified experience for viewers using ad blockers

Wikia is not accessible if you've made further modifications. Remove the custom ad blocker rule(s) and the page will load as expected.