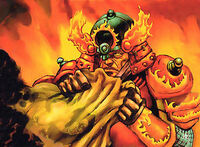 Shiba Hayoto was a Phoenix Clan samurai
War with the Dragon
Edit
Guarding the Border
Edit
When the War of Fire and Snow began Hayoto was stationed at Floating Village. The surly and aggressive samurai was eager to halt any attempt for the Dragon to seize the village. [1]
Togashi Satsu
Edit
Hayoto led a force of Phoenix in the attempted capture of Togashi Satsu in 1159. The Phoenix ambushed Satsu's entourage which was travelling to the Shrine of the Ki-Rin, but Hayoto was foiled by Hitomi Hogai's intervention. [2]
Oath of Vengeance
Edit
Hayoto wished to hunt and kill Hitomi Hogai for an unknown reason [3], most likely due to his defeat in the attempt to capture Togashi Satsu.
External Links
Edit
References