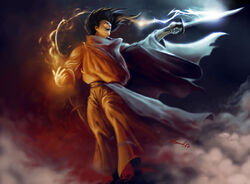 Shiba Denbe was a bushi and yojimbo of the Phoenix Clan who attained enlightenment.
Enlightenment
Edit
The Isawa led, the Shiba followed. For ten centuries, this had been the way of things. The learning and wisdom of the Isawa set a path for the Phoenix to follow, and the clan had achieved knowledge, wisdom, and prosperity as a result. But in war, other needs came to the fore, and other perspectives demanded consideration. A flag raised, a blade pointed, a command uttered; all of these things, subtle though they might be, could drive the fate of a Great Clan. Shiba Denbe understood this. One clear voice, placed correctly and heard by all, could change the course of nations. In the days to come, Denbe would find such a voice, and it would be his own. [1]
External Links
Edit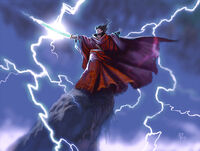 References
Ad blocker interference detected!
Wikia is a free-to-use site that makes money from advertising. We have a modified experience for viewers using ad blockers

Wikia is not accessible if you've made further modifications. Remove the custom ad blocker rule(s) and the page will load as expected.