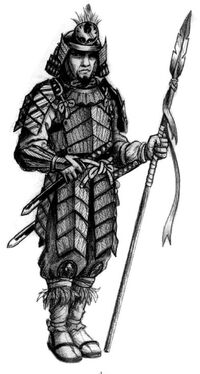 The basic troop of the Phoenix Clan, the Shiba Bushi were some of the Empire's most contemplative warriors. They trained closely with the Isawa and had learned much from their experiences, including how to focus their inner strength to a level unparalelled among bushi in the Empire. [1]
Teachings
Edit
A Shiba bushi considered all options before committing to combat, searching for any possible alternative other than the loss of life. [2] There were a few sensei who taught iaijutsu. [3]
Known techniques
Edit
This is the list of the known techniques of the Shiba Bushi school: [4]
See also
Edit
References
Ad blocker interference detected!
Wikia is a free-to-use site that makes money from advertising. We have a modified experience for viewers using ad blockers

Wikia is not accessible if you've made further modifications. Remove the custom ad blocker rule(s) and the page will load as expected.