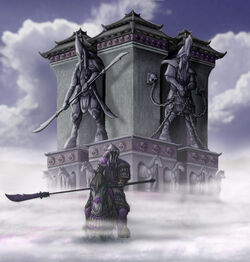 The Shi-Tien Yen-Wang Temple, or Temple of Death, was built after the bargain between Moto Chagatai and the Lords of the Dead, the Shi-Tien Yen-Wang, to be worshipped again by the Unicorn Clan. [1]
Location
Edit
It was built in the Moto provinces, in the White Shore Plain withins the sight of Shiro Moto. [2]
His first Master was Moto Tsusung and Horiuchi Rikako on of its students. [3]
External Links
Edit
References