The Shi-Tien Yen-Wang Temple, or Temple of Death, was built after the bargain between Moto Chagatai and the Lords of the Dead, the Shi-Tien Yen-Wang, to be worshipped again by the Unicorn Clan. [1]
Location and Appearance
Edit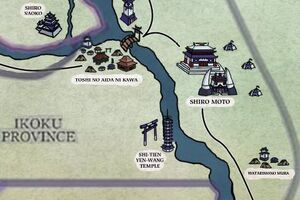 It was built in the Moto provinces, in the White Shore Plain withins the sight of Shiro Moto. [2] It was a massive temple complex, housing the training grounds for the priesthood of the Shi-Tien Yen-Wang, as well as a library compiling the legends and stories of the Unicorn clan and the Lords of Death. The huge central shrine was surrounded by ten giant statues of the Lords of Death. [3]
His first Master was Moto Tsusung and Horiuchi Rikako on of its students. [4]
External Links
Edit
References
Ad blocker interference detected!
Wikia is a free-to-use site that makes money from advertising. We have a modified experience for viewers using ad blockers

Wikia is not accessible if you've made further modifications. Remove the custom ad blocker rule(s) and the page will load as expected.