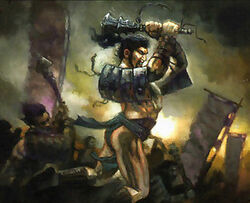 Shell of Stone was a kata of the Crab Clan, the most basic of the Hida Bushi school. This exercise reinforced the primary techniques of a Crab warrior's defense and was often learned by the Hiruma Scouts. The kata was performed in full armor and used positioning and movement to make the bushi nearly impossible to hit effectively. [1]
External Links
Edit
References
↑ Legend of the Five Rings; Third Edition, p. 195
Ad blocker interference detected!
Wikia is a free-to-use site that makes money from advertising. We have a modified experience for viewers using ad blockers

Wikia is not accessible if you've made further modifications. Remove the custom ad blocker rule(s) and the page will load as expected.