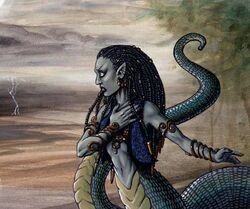 The Shazaar, the title given to leader of the diplomatic scouts, [1] trained to interact with other races and cities. [2]
Awakening
Edit
The Shazaar was one of the first naga to awaken from the Great Sleep, in 1119, [3] and was horrified to discover a new civilization had risen up where the naga had once been. She infilitrated the half-naga race by changing her shape, and learned their language. She could also sense the rising of a dark force to the south. Part of her wished to be asleep once more, but another part hoped she would be joined by others of her race soon. [4]
Falcon villages
Edit
In 1122 the Shazaar was seen by Rokugani within the Falcon lands and mistakenly mixed up with Shadowlands creatures. [1] When reports of this event were passed to the Crab they were insulted by his description of the Naga as "escapees" from the Shadowlands. The Crab instead conquered the village. [5]
See also
Edit
External Links
Edit
Shazaar (Scorpion Clan Coup, Scroll 2)
References
↑ Way of the Naga, p. 45 sidebar
↑ Imperial Histories, p. 128
↑ Clan Letter to the Naga (Imperial Herald v.2 #4)
↑ Winter Court: Kyuden Seppun, p. 83
Ad blocker interference detected!
Wikia is a free-to-use site that makes money from advertising. We have a modified experience for viewers using ad blockers

Wikia is not accessible if you've made further modifications. Remove the custom ad blocker rule(s) and the page will load as expected.