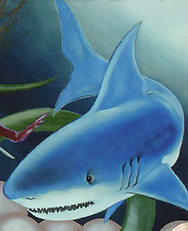 Sharks were predatory fish that could track their prey by smell. Sharks which smelled blood or which were wounded entered in a frenzy status. [1] For this reason sharks were held in reverence by both the Hiruma family and some of the smaller Bloodspeaker sects. The most common dangerous variety was the aoizame, and the largest was the hohojirozame. [2] It was one of the more exotic fish which was caught for food by the people of Kaigen's Island. [3]
Pearl Bead Guardians
Edit
They were trained by the Naga Chameleons to guard their underwater cities and Pearl Beds. [4]
See also
Edit
References
Ad blocker interference detected!
Wikia is a free-to-use site that makes money from advertising. We have a modified experience for viewers using ad blockers

Wikia is not accessible if you've made further modifications. Remove the custom ad blocker rule(s) and the page will load as expected.