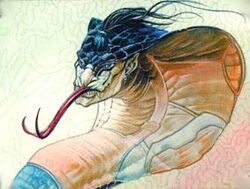 Shapeshifting was a Mastery 5 maho spell which twisted and corrupted the flesh, transforming living beings into the evil creatures of the Shadowlands, as Ogres, Bog Hags, Dark Moto or Sanru no Oni, under complete control of the caster. It was believed the original scroll had been a forerunner of the Dragon Clan's Transform, that transformed one inorganic substance to another. [1]
References
↑ Time of the Void, p. 125
Ad blocker interference detected!
Wikia is a free-to-use site that makes money from advertising. We have a modified experience for viewers using ad blockers

Wikia is not accessible if you've made further modifications. Remove the custom ad blocker rule(s) and the page will load as expected.