Shalimar was a Ra'Shari Dancer of the First Chronicle.
Shalimar was a member of the Great Caravan of Memory [1] and the student of Raya, the seer of the Second Chronicle, and also of Moto Jangir. [2]
The Robber
Edit
Shalimar saved Adnan from the Jackals in the Lake of Souls. [3]
Foreigners
Edit
Shalimar made contact with the foreigners the Senpet had imprisoned in 1130. [2] She found and retrieved a heavy circle of glass, which was lost in the sands. [4] Shalimar followed the orders of Raya and Jangir, [5] so she passed it to the Old Man of the Mountain, leader of the Assassins. They came to the Lake of Souls were the Old Man showed the mirror to the Assassins, and foresaw the fall of the Immortal Caliph, Hanan Talibah, and her allies the Senpet. A blood-red Scorpion was clearly visible upon its watery surface. [2]
External Links
Edit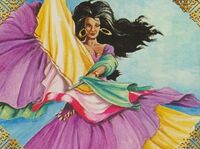 References
Ad blocker interference detected!
Wikia is a free-to-use site that makes money from advertising. We have a modified experience for viewers using ad blockers

Wikia is not accessible if you've made further modifications. Remove the custom ad blocker rule(s) and the page will load as expected.