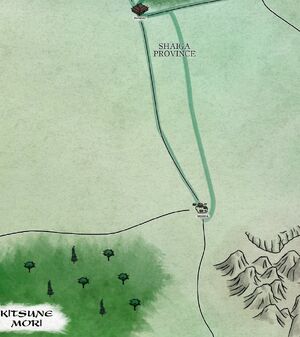 Shaiga (M7) in the Shaiga province [1] was located adjacent to Three Man Alliance Plain, just south of the Spine of the World Mountains, [2] centered upon a stretch of fertile land on the plains. It was founded a short time before the beginning of the Clan War to provide food during the incoming conflict. [3] It was a quiet village governed by the Tsuruchi and populated entirely by heimin. [4]
Gold Mine
Edit
All the heimin here had been secretly taught how to use peasant weapons such as the tonfa and nunchaku, [5] and they all acted as the village's guardians. The village accounted for the Tsuruchi family's food productions, but also held another secret. Located nearby was a vein of gold, which was mined lightly to keep it tax free and secret. [4] The entrance was disguised in order to prevent outsiders from stumbling across it. [6]
Shaiga wes the location of Otoya's dojo and where the veteran trained Kaneka in 1152. [7]
Blood Hunt
Edit
In 1166 the village was attacked by bloodspeakers and were saved by the timely arrival of the Scorpion cavalry, carrying the banner of the Imperial Legions and Shosuro Naname, the Sixth Legion Commander. [8]
Destroyer War
Edit
In 1173 the village was attacked by the forces of Kali-Ma during the Destroyer War and finally fell. Among its defenders was Doji Saori, who saw to it that Akodo Tetsuru was killed on the battlefield. [9] Mirumoto Katsutoshi took command at the front since the Akodo officer fell in battle. His Lord Mirumoto Mareshi was also involved in the defence of the village. [10] It was rebuilt afterwards and resumed both its public role as the main source of food for the Tsuruchi family and its covert role as a source of gold. [2]
References
Ad blocker interference detected!
Wikia is a free-to-use site that makes money from advertising. We have a modified experience for viewers using ad blockers

Wikia is not accessible if you've made further modifications. Remove the custom ad blocker rule(s) and the page will load as expected.