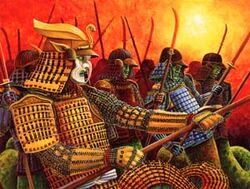 Shahadet's Legion was a naga unit led by Shahadet. It was also known as the Asp Legion. [1]
Training
Edit
Legionnaires were trained in a fighting style that developed both lightning-fast melee strikes and development of the Naga penchant for archery. A common tactic was to exact heavy casualties with pinpoint archery, then discarded their bows in favor of blades when their weakened opponents finally reached them. [2] They wore great leaves, thick and tough as leather, from the largest trees in the Shinomen Forest. [3]
Holy River
Edit
Each year the legionnaires bathered at the source of the Holy River within the Siksa's walls to commune with the warriors of the past. Whenever a new Asp was inducted into the Legion, he was bathed in the river by his comrades, who told him of his faults, and how to overcome them. [4]
Shahadet's Legión served as a powerful center-piece in the Naga front lines, and provided protection to the Naga military leaders. [3] The Legion most likely saw service under the command of Shahadet on the Second Day of Thunder in 1128, [5] and then again against Hitomi and the Dragon Clan in 1132. [6]
Known Great Lesson
Edit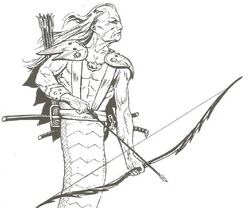 See also
Edit
External Links
Edit
References
Ad blocker interference detected!
Wikia is a free-to-use site that makes money from advertising. We have a modified experience for viewers using ad blockers

Wikia is not accessible if you've made further modifications. Remove the custom ad blocker rule(s) and the page will load as expected.