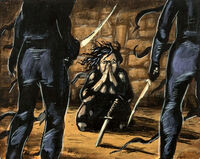 Shafa was pursued by two Askaree, the Caliphate guards. When she was cornered, dropped to her knees in the ceremonial poise of wajh, pleeding for mercy. The guards would not kill the child themselves. [1] The askaree did not detain Shafa, because they were killed by arrows fired by a woman dressed in black, Shala. [2] It was not known what had happened before of after, but her story was told in the Suhdma's Tale. [1] [2]
References
Ad blocker interference detected!
Wikia is a free-to-use site that makes money from advertising. We have a modified experience for viewers using ad blockers

Wikia is not accessible if you've made further modifications. Remove the custom ad blocker rule(s) and the page will load as expected.