Clan War: Shadowlands Army Expansion was the sourcebook for the Shadowlands Horde in the Clan War Miniatures Game for Legend of the Five Rings.
Cris Dornaus and Rob Vaux, and Shadowlands: Bearers of Jade by Chriss Hepler and Jennifer Brandes
Cover Artwork: Carl Frank
Interior Artwork: Chris Dornaus and Carl Frank
Artwork Prepress: Steve Hough and Brendon Goodyear
Interior Layout: Brendon Goodyear
Editing: D.J. Trindle and Ken Carpenter
Playtesters: Mathew Manders, Micheal Manders, Shawn Megaw, Brian Pugnier, Jeff Stolt, Jay "J" Hainey, Mike Derouchie, Will Eames, Justice Sommer, Shane Anderson, Mark Greenwald, Paul Johnson, Shane Lindstrom, Randy Martin, Brian Olea, Greg Osburn, Steve Wagner, Frank Martin, Mike Faneros, Jacob Lamitie, Bob King, Mark Perneta, Leland James, Peter Orfanos, Eric Lamonica, Gabriel Hosterman, Heath Marks, Kevin Tseng, Scott Lemaster, Roy Bagett, Boyd Kleen, Geoff Schaller, Joe Keyser, Jim Callahan, Barney James, Brent Burdine, Evan Schakmann, CJ Dunningan, Dominic Johnson, Duncan Barrow, Jeff Bachccetti, Stephen Rill, Rob Bowes, Shawn Raville
Clan War Miniatures Sculptors: Bob Charrette, Chris Fitzpatrick, Sandra Garrity, C. Brad Gorby, Jeff Grace, Julie Guthrie, Bobby Jackson, Jim Johnson, Tom Meier, Dennis Mize, Bob Murch, Bob Olley, Tim Prow, Bob Ridolfi, Steve Saunders, Clint Staples, Dave Summers
Table of Contents (page 3)
Edit
Section One: Overview, by Kuni Mokuna (page 4) Edit
Creatures of Fu Leng
Servants of Fu Leng
Section Two: Rules (page 12)
Edit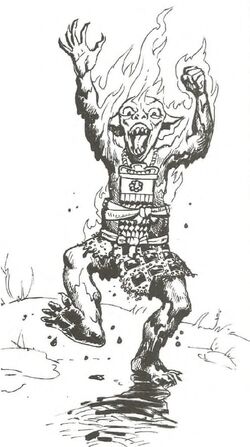 Rules Addition
Edit
Expanded Rules
Edit
Rules Errata (page 18)
Edit
Card Corrections
Item Cards
Spell Cards
Section Three: Shadowlands Forces (page 22)
Edit
Inter-Force Relationships
Shadowlands/Clan Recruitment Cost Increase
Equipment Rules
Shadowlands Personalities
Overlord Packages
Shadowlands Units

Bloodspeakers
The Lost Moto
Magic Mud Goblins
Shadowlands Madmen
Oni Podlings
Ad blocker interference detected!
Wikia is a free-to-use site that makes money from advertising. We have a modified experience for viewers using ad blockers

Wikia is not accessible if you've made further modifications. Remove the custom ad blocker rule(s) and the page will load as expected.