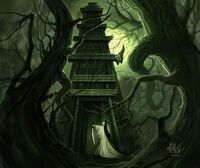 The Shadowed Tower of the Shosuro was the largest of the multiple base of operations of the Shadowed Tower. It was located in Ryoko Owari Toshi. [1]
Building
Edit
The compound was built by the Shadowed Tower conspiracy under Ryoko Owari Toshi, just outside the Leatherworker Quarter. It became famous in certain circles as a place where the jaded could find entertainment, bringing a wealth of funding to the organization, as well as a place to gain information from the guests. Agents of the Tower advertised free companionship and cheap opium, ensuring a steady stream of visitors. Some of them were kidnapped to be used in their dark rituals and research. [2]
Entrances
Edit
The compound had two points of entry, visitors entered through a hut that led to a spiraling stairwell. The other entry was known and used only by the Shadowed Tower, as it connected to one of the organization's secret holdings above-ground. [2]
Locations
Edit
The Den of Sin was the main room, and in other private rooms geisha entertained the guests. Hidden observations points could be found in the walls, leading to secret passages. A large temple dedicated to Bayushi was located in the backrooms, with a secret staircase up to the group's aboveground holdings. In the temple the dark arts of the organization were performed. The Master of the Compound Bayushi Noki use his quarters to receive his guests and his masters. In a recessed room to the temple's east the eta used in the rituals were contained within cells. [3]
External Links
Edit
References
↑ Legend of the Five Rings; Third Edition, p. 82
↑ Secrets of the Scorpion, pp. 83-84, 86
Map of the Shadowed Tower of the Shosuro
Edit
Ad blocker interference detected!
Wikia is a free-to-use site that makes money from advertising. We have a modified experience for viewers using ad blockers

Wikia is not accessible if you've made further modifications. Remove the custom ad blocker rule(s) and the page will load as expected.