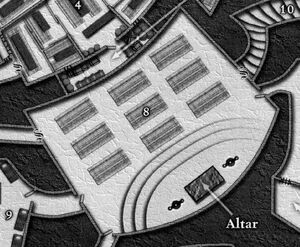 The Shadowed Tower Temple was located in the backrooms of the Shadowed Tower of the Shosuro, the Shadowed Tower secret compound under Ryoko Owari Toshi. The temple was devoted to Bayushi and a statue of the Scorpion Kami was bearing the altar, where the dark arts of the organization were performed. The floor was spotted with bloodstains that could not be removed. Guards were present even when the rituals of the Shadowed Tower maho-tsukai were in progress. [1]
References
↑ Secrets of the Scorpion, p. 84
Ad blocker interference detected!
Wikia is a free-to-use site that makes money from advertising. We have a modified experience for viewers using ad blockers

Wikia is not accessible if you've made further modifications. Remove the custom ad blocker rule(s) and the page will load as expected.