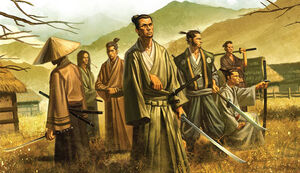 The Seven Waves Mercenaries were a ronin group with a reputation for discrete and effective service. Seven ronin founded it in the 10th century, each one an outcast from one of the original Great Clans. The leaders of the group, most of them descendents of the original founders, keep it organized into seven-man teams. [1]
Known Technique
Edit
External Links
Edit
References
↑ Enemies of the Empire, p. 203
Ad blocker interference detected!
Wikia is a free-to-use site that makes money from advertising. We have a modified experience for viewers using ad blockers

Wikia is not accessible if you've made further modifications. Remove the custom ad blocker rule(s) and the page will load as expected.