The Seven Temples of Gisei Toshi were built by the Tribe of Isawa, housing all manner of spell scrolls, nemuranai, and other strange objects for study and safekeeping. [1]
Appearance
Edit
The stone temples stood in an inward-facing circle, each decorated in a manner appropriate to its Fortune. The back chambers houses the artifacts the Phoenix have decided to hide from the Empire. It also evolved into a repository of failed experiments conducted by the Elemental Masters or other powerful figures within the Phoenix. [2] The gardens surrounded the entire temple grounds, offering serenity to those that preferred the open air. [3]
Defenses
Edit
A low wall surrounded the grounds of the Seven Temples which had a single entrance on its south side. No towers, defensible walls or other fortifications guarded the area. The monks than tended it were adept at combat, and Shiba Bushi patrols were always ready in case of alarm. [4]
Those who came to worship inside the temples underwent a ritual of purification before being allowed inside. The Phoenix monks "cleansed" the visitor's soul by casting several spells. [4]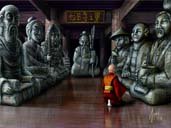 The seven statues of the Seven Fortunes were crafted by Isawa and his followers, were carved from the local natural rock using magic. All seven faced east towards the rising sun, until the Fall of the Kami, when the statue of Bishamon turned to face to the southwest, coincident with the corruption of Fu Leng. [4]
This is the list of the Seven Temples and the nemuranai they kept for centuries: [2]
References
↑ Secrets of the Phoenix, p. 81
↑ Secrets of the Phoenix, p. 86
Ad blocker interference detected!
Wikia is a free-to-use site that makes money from advertising. We have a modified experience for viewers using ad blockers

Wikia is not accessible if you've made further modifications. Remove the custom ad blocker rule(s) and the page will load as expected.