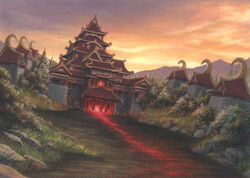 Seven Stings Keep (SC7) was a secondary facility for military training [1] of the Bayushi. The closure of Beiden Pass in the 12th century reduced the strategic importance of the keep. [2]
Appearance
Edit
The castle was nestled at the foot of the Spine of the World Mountains, with easy access to most of the mountain passes that provided access to the Scorpion lands. It hads very visible seven high towers and the tower roofs were sharp and foreboding. The Scorpion military masterminds resided within this keep, maintaining extensive diagrams and reproductions of troops, army movements, and terrain details of all the clan's current and potential enemies. [3]
External Links
Edit
References
↑ The Atlas of Rokugan, p. 164
↑ Legend of the Five Rings; Fourth Edition, p. 353
Ad blocker interference detected!
Wikia is a free-to-use site that makes money from advertising. We have a modified experience for viewers using ad blockers

Wikia is not accessible if you've made further modifications. Remove the custom ad blocker rule(s) and the page will load as expected.