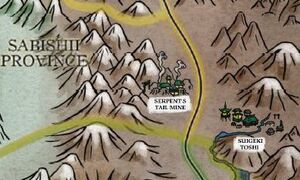 The Serpent's Tail Mine was a geological puzzle which had existed since 4th century. [1]
Discovery
Edit
The mine was discovered by the Agasha searching for a vein of ore within the Dragon mountains. The veins they discovered were entwined deposits of gold and iron ore. The mine earned its name after they found that the mining tunnel went coiling deep into the mountains, looking very similar to two embattled snakes. Peasant workers named the continuing trails Miko and Mako. [1] The raw materials were transformed in the forges of the nearby city of Suigeki Toshi. [2]
Third Deposit
Edit
In 1161 the mining process uncovered a third deposit, of jade fused with the two trails of iron and gold. The twisting trails were actually crafted by two angry kami, one of Fire and one of Earth, chasing each other until they collided and formed jade in an untraditional manner. [1] A large shrine was built to appease these kami. [3]
References
↑ Emerald Empire; Fourth Edition, p. 137
↑ The Atlas of Rokugan, p. 73
Ad blocker interference detected!
Wikia is a free-to-use site that makes money from advertising. We have a modified experience for viewers using ad blockers

Wikia is not accessible if you've made further modifications. Remove the custom ad blocker rule(s) and the page will load as expected.