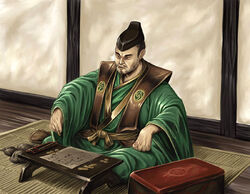 Seppun Washi was a bushi and banker of the Imperial Bank of Rokugan.
Kurohito elevated as Fortune
Edit
When in 1197 the Crane lobbied to elevate Doji Kurohito as Fortune, Washi mad clear to Otomo Kinmochi, the go-between with the Imperials, that the Seppun would not support it unless the Crane bore with all the expenses. Kurohito was elevated as the Fortune of Perfection. [1]
External Links
Edit
References