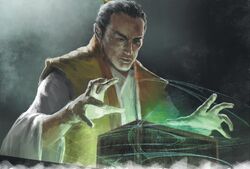 Seppun Teshan was a courtier and shugenja of the Imperial Families, member of the Hidden Guard. He was appointed to custody the Blood of the Preserver. [1]
Imperial Winter Court - 1199
Edit
In 1199 Teshan attended Imperial Winter Court at Toshi Ranbo. During the courtly event known as the Devil's Chase, a traditional ending to the Winter Court, in which a procession of priests was led through the Palace by the Devil Chaser, a priest bearing ancient artifacts and performing ceremonial song and dance, Seppun Asagako, Iweko Miaka's yojimbo, revealed to have been replaced by an oni. Teshan confronted Kommei no Oni, unleashing the Blood upon the foul beast. [2] The oni survived and in turn grievously wounded the shugenja, who was healed by Tonbo Inuyama. [3] Teshan had been punished for his failing, because just after the demon killed Seppun Asagako, it spoke to Teshan. The shugenja requested seppuku, but it was denied by his Lord. His sole remaining job would be to uncover a use for the Blood. [2]
External Links
Edit
References
Ad blocker interference detected!
Wikia is a free-to-use site that makes money from advertising. We have a modified experience for viewers using ad blockers

Wikia is not accessible if you've made further modifications. Remove the custom ad blocker rule(s) and the page will load as expected.