Seppun Shogo was a courtier of the Seppun family.
Demeanor
Edit
Shogo was a brusque, unlikable Imperial. He had many enemies. [1]
Forcing the justice
Edit
In 1168 the Jade Champion Asahina Sekawa sent Mirumoto Narumi to the Seppun provinces to deal on an accusation of maho. Shogo made testimony he had seen one of his peasants using maho. The man was caught and a Kuni Witch Hunter, Kuni Yaruko, cast a spell to destroy the supposed tainted man, but the spell did not make effect. Yaruko realized the man was not tainted, which caused Shogo's fury. He pressed Narumi to execute the man as guilty, but she was reluctant. Shogo threatened her to involve Yaruko as co-conspirator with a confession taken from the man, possibly after a torture session. Narumi was forced to execute the peasant following only Shogo's testimony. [2]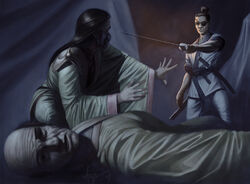 During the Test of the Jade Champion in 1169 Shogo who was poisoned and stabbed in The Mikado by Bayushi Takaharu under orders of Shosuro Jimen. [3] Seppun Shogo was despised by all, and many stood to gain much from his death. [4] Kakita Noritoshi found Jimen's lackey in the scene of crime. [5]
External Links
Edit
References
Ad blocker interference detected!
Wikia is a free-to-use site that makes money from advertising. We have a modified experience for viewers using ad blockers

Wikia is not accessible if you've made further modifications. Remove the custom ad blocker rule(s) and the page will load as expected.