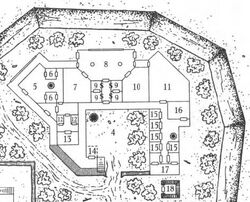 The Seppun Palace was located in the Forbidden City hidden behind the Imperial Palace. Its size was reduced in the 11th century, when a courtier misidentified it as the Imperial Palace. [1]
Appearance
Edit
The structure remained mostly behind the Forbidden City wall, and its first floor was open to visitors. It housed all non-Seppun residents, with public libraries, gardens and a small dojo. The centerpiece of their atrium was a statue of Hantei XIX, given to the Seppun by his father just before the young boy's coronation. The upper floorswere closed to all but family members, containing living quarters, servants' domiciles, personal courts, and the restricted family histories. [1]
References
Ad blocker interference detected!
Wikia is a free-to-use site that makes money from advertising. We have a modified experience for viewers using ad blockers

Wikia is not accessible if you've made further modifications. Remove the custom ad blocker rule(s) and the page will load as expected.