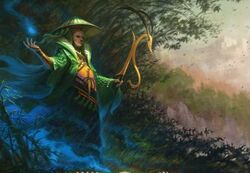 Seppun Omihiru was a shugenja and Emerald Magistrate of the Imperial Families.
Hidden Guard
Edit
As a very young child, Omihiru had witnessed the coronation of the Divine Empress, Iweko I. Many years later he become a member of the Hidden Guard, overseeing the personal protection of the Empress and those most important to her. In 1200 he was present in the audience held between Iweko Seiken, the future Emperor, and the assembled Clan Champions of the Great Clans. [1]
External Links
Edit
References
Ad blocker interference detected!
Wikia is a free-to-use site that makes money from advertising. We have a modified experience for viewers using ad blockers

Wikia is not accessible if you've made further modifications. Remove the custom ad blocker rule(s) and the page will load as expected.