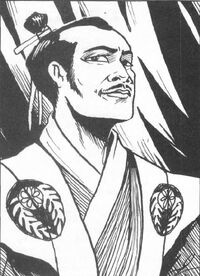 Seppun Meyori was the Juramashi district's Governor prior to the Scorpion Coup.
District Governor
Edit
Meyori was a confident, cheerful, and reassuring man who took the post of the district of Otosan Uchi whose governors lasted less than one year since the ten years of ruling of its founder Shiba Juramashi. [1]
Scorpion Coup
Edit
Meyori survived the Scorpion Coup, but he was removed from his post by Hantei XXXIX as recommended by the Otomo. No new governor was appointed immediately. [2]
See also
Edit
References
Ad blocker interference detected!
Wikia is a free-to-use site that makes money from advertising. We have a modified experience for viewers using ad blockers

Wikia is not accessible if you've made further modifications. Remove the custom ad blocker rule(s) and the page will load as expected.