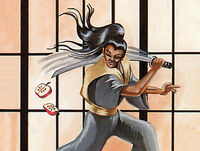 Seppun Mashita was a duelist and member of the Toturi's Army.
Training
Edit
Mashita was the grandson of the famed swordsman Seppun Haruhiro, who saved the life of Hantei XXXVI when he stepped in front of an assassin's poisoned arrow, but lost the use of his legs. Haruhiro used his contacts to send Mashita to the Mirumoto Swordmaster school, where he grew into a talented duelist and traveled to distant lands to test himself against masters. [1]
Obligation
Edit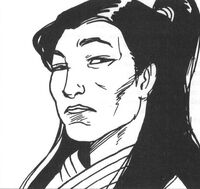 In 1126 his grandfather's health deteriorated and much of his family's fortune had been exhausted on rare herbal medicines to ease his grandfather's pain. His debts were canceled by the Imperial Herald Miya Satoshi, who gifted him with an invitation to the Emperor's Winter Court at Kyuden Asako. There Satoshi demanded to duel Miya Yuritogen to the death. Yuritogen had left the Miya family becoming ronin, but he had maintained the family name as a show of defiance to Satoshi. [1]
See also
Edit
External Links
Edit
References