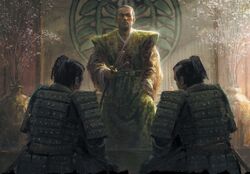 Seppun Jiramu was a courtier and bushi of the Imperial Families who passed his knowledge to the new generations. [1] He was considered one of the Seppun's most venerable sensei. [2]
Chasing the Kolat
Edit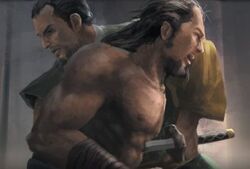 Jiramu and Kitsuki Yoyugi were aware that the Kolat conspiracy had survived and was in motion. When Yoritomo Emoto stumbled upon his clansman's investigation into the Kolat, it was only a matter of time before they came for him. Jiramu devised a plan to remove Emoto from the public eye, faking his death during the riots of the Second City. [3] This was only one way for him to convince the Kolat of his loyalty so that he might infiltrate them. [4]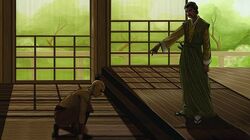 The influence of P'an Ku's madness led in many confrontations among samurai in the Colonies. It was known that Jiramu defeated and spared Asako Karachu, who had accompanied out of the city the disgraced Imperial Governor of the Colonies Otomo Suikihime. [5]
External Links
Edit
References
Ad blocker interference detected!
Wikia is a free-to-use site that makes money from advertising. We have a modified experience for viewers using ad blockers

Wikia is not accessible if you've made further modifications. Remove the custom ad blocker rule(s) and the page will load as expected.