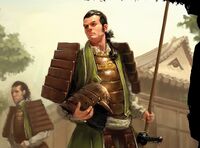 Seppun Goharu was a bushi and yojimbo of the Imperial Families. [1]
Goharu was appointed as yojimbo of the Otomo Daimyo Otomo Taneji after he dismissed Hiruma Todori. Taneji could not mantain the Hiruma Daimyo in such station during the Destroyer War. [2]
Assaulted
Edit
Taneji and Goharu traveled to Ryoko Owari Toshi. There they were assaulted by several individuals. Goharu would not handle with all of them, and was wounded. Only the arrival of three ronin, Gahseng, Setsuko and Asagi, let Taneji to survive this day. The Otomo offered further service to the men. [2]
External Links
Edit
References