Seppun Baka was a courtier of the Imperial Families. He was considered a sycophant.
Appearance
Edit
Baka was a small hunched man who dressed in dark robes and tended to wear perfume, [1] wielding a trademark ornate lace fan. <[2]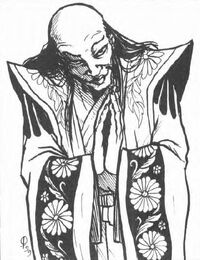 Baka initially embraced the scholar duty with zeal, but he was dazzled by the Imperial Court and entered in the Imperial Library, allowing him to apply his bookish skills while still remaining close to the court. [1]
Chief Historian
Edit
Baka gained the Ear of the Emperor, and Hantei XXXVIII called him for any advice on religion or history, being part of the Hantei's inner circle of advisors. Baka was appointed the Imperial Chief Historian and few could surpass his knowledge of the Tao of Shinsei and the Prophecies of Uikku. Baka also gain a foothold with the Imperial Heir, Hantei Sotorii. [1]
After Scorpion Coup
Edit
After the Scorpion Coup the new Emperor Hantei XXXIX favored his wife Hantei Kachiko over Baka as advisor, which the Seppun did not seem to take well. [3]
Kisada's Ambition
Edit
In 1126 Baka was present in the Imperial Court when a tainted Seppun messenger told Hantei XXXIX that Hida Kisada had raised an army against the Emperor, composed by Crab warriors, oni, and minions of the Shadowlands. It was the beginning of the Clan War. [2]
See also
Edit
External Links
Edit
References
Sources Conflict
The sources relating to this article are in conflict with each other.
In the fiction Three Days Baka was named Bake, a typo. --Oni no Pikachu 09:18, May 28, 2011 (UTC)
Ad blocker interference detected!
Wikia is a free-to-use site that makes money from advertising. We have a modified experience for viewers using ad blockers

Wikia is not accessible if you've made further modifications. Remove the custom ad blocker rule(s) and the page will load as expected.