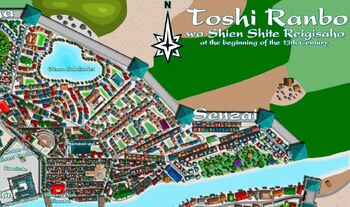 The Senzai District of Toshi Ranbo was the home of the higher culture of the city. [1] Most of the city's samurai lived in this district. [2] It was the newest district in Toshi Ranbo and did not exist at all prior to the city becoming the Imperial Capital. [3] The Okura Subdistrict was part of the Senzai District. [4]
The district was rife with quiet, beautiful gardens, Noh theatres, estates of the city's highest ranking nobility and even the Imperial Museum. Wars of words were fought over anything from the levels of hospitality to quality of entertainment provided by hosts. An ikebana arrangement could be used as a metaphor for a clan's participation in any number of events in the Empire. [1]
The district's court was a small one, and concerned itself almost exclusively with matters that a war-trained bushi might consider frivolous. Matters of entertainment and culture, such as which clan's theatre troupe would perform in Toshi Ranbo next season, were decided here. [1]
Winter of Red Snow
Edit
The district suffered extensive damage during the Winter of Red Snow, and Isawa Sezaru's death took place almost directly over the western part of the district. [5]
Notable Locations
Edit
Known Governors
Edit
References
↑ Strongholds of the Empire, p. 121
↑ The Atlas of Rokugan, p. 291
↑ The Atlas of Rokugan, p. 285
↑ Strongholds of the Empire, p. 122
Ad blocker interference detected!
Wikia is a free-to-use site that makes money from advertising. We have a modified experience for viewers using ad blockers

Wikia is not accessible if you've made further modifications. Remove the custom ad blocker rule(s) and the page will load as expected.