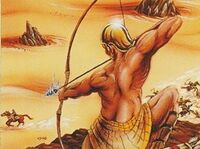 Senpet longbow was the preferred weapon of the Senpet army. [1] The Senpet crafted their bows from yew wood, allowing enormous flexibility and tensile strength. The Senpet archers were well known both for the range of their bows and the accuracy of their arrows. A common tactic among Senpet commanders was to soften enemies with an endless barrage of long-range combat, then shattering the front lines with a rapid strike from chariot squadrons. Unlike Rokugani archery techniques, the Senpet recognized the value of aiming their ranged strikes. [2]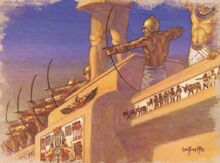 References
Ad blocker interference detected!
Wikia is a free-to-use site that makes money from advertising. We have a modified experience for viewers using ad blockers

Wikia is not accessible if you've made further modifications. Remove the custom ad blocker rule(s) and the page will load as expected.