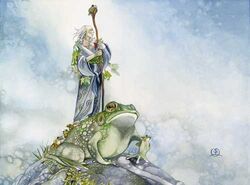 Sennin were those monks who had attained enlightenment, but instead of ceasing to be as the other noshin, they remained in the world of forms to lead others to enlightenment. [1] Having achieved mastery over the Kharmic Wheel, these souls could reborn while retaining memories of their prior lives. Shinsei himself was believed to be the first sennin. [2]
External Links
Edit
References
Ad blocker interference detected!
Wikia is a free-to-use site that makes money from advertising. We have a modified experience for viewers using ad blockers

Wikia is not accessible if you've made further modifications. Remove the custom ad blocker rule(s) and the page will load as expected.