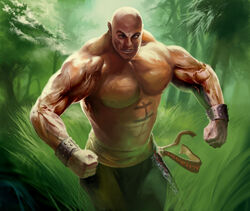 Sengmai, the Unbreakable was a Fire monk who was corrupted and joined the Shadowlands.
Sengmai was a member of the Order of Thunder whose true strength was in the inexorable power of his will. The mortal manifestation of the Thunder Dragon was said to have granted him private audiences. Sengmai was sensei to his fellow brother Nishoji, but the two had a falling out. [1]
Colonies
Edit
Sengmai traveled to the Colonies to end the threat of the Fudo cult there [1] in 1198. Eight of his fellow monks traveled together to the Colonies, while he  traveled by a different route, through the Shadowlands and the jungles there. Sengmai emerged from the southern jungles, wounded, battered, sickened slightly, but ultimately unbroken. [2] He offered himself as advisor to the [3] Shadowlands. [4]
External Links
Edit
References