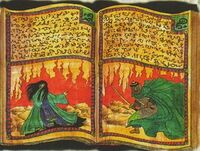 Selqet was the avatar of the Senpet Sun deity, Shilah, much like Amaterasu and later Yakamo were for Rokugan. Unlike Amaterasu, Selqet did not die during the Twenty-Seven Days of Darkness. She was revered as a lifegiver but also as a cruel mistress. [citation needed]
Selqet was known as Punisher of the Dead, Friend to the Faithful, Goddess and Keeper of Lies. [1]
Scorpion Clan
Edit
During Scorpion Clan exile in the Burning Sands they were taken as slaves by the Senpet, and Bayushi Kachiko was believed to be an incarnation of Selqet. [2] After her brother Shosuro Hametsu tried to kill her, the Senpet realized Kachiko was not the Avatar they sought. Instead, they found this Avatar in Shosuro Tage, who assisted in the freeing of the Kami Shinjo from a desolate prison where she had been trapped for centuries, in the Black Earth. [3]
External Links
Edit
References
Ad blocker interference detected!
Wikia is a free-to-use site that makes money from advertising. We have a modified experience for viewers using ad blockers

Wikia is not accessible if you've made further modifications. Remove the custom ad blocker rule(s) and the page will load as expected.