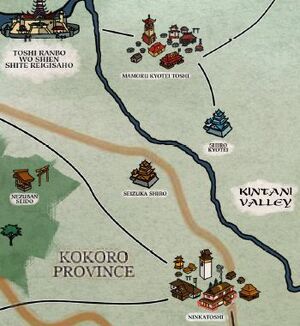 Seizuka Shiro was the ancestral home of the Seizuka family, cartographers of the Lion Clan. It was built in 1155 between Ninkatoshi and Toshi Ranbo. It become a stopping place for those traveling to Violence Behind Courtliness City from the south, and it could become a staging point from which Lion armies could attack Toshi Ranbo if needed. The palace reminded of a monastery inside castle walls, with a constant stream of intent cartographers carrying scrolls. The castle had several libraries and stables, as the Seizuka used horses for their surveying missions. [1]
Kintani Valley
Edit
In 1200 the Lion claimed the northern portion of the Kintani Valley fell within the purview of Seizuka Shiro. After a brief struggle with the Crane, the Lion relinquished their claim. [2]
References
↑ Secrets of the Lion, p. 27
Ad blocker interference detected!
Wikia is a free-to-use site that makes money from advertising. We have a modified experience for viewers using ad blockers

Wikia is not accessible if you've made further modifications. Remove the custom ad blocker rule(s) and the page will load as expected.