The Spine of the World Mountains splits Rokugan in two from north to south. The mountain range contains the tallest peaks in Rokugan, including Yama sano Kaminari. [1]
There are few passes that cross the mountains, and most are narrow and fraught with peril. Of the ones listed below, Beiden Pass, the biggest one was destroyed in 1150, and Seikitsu Pass (collapsed in 99) was re-opened up by a huge fireball shortly after Beiden's destruction. Plum Blossom Pass and Iuchi Pass are less well known. [1]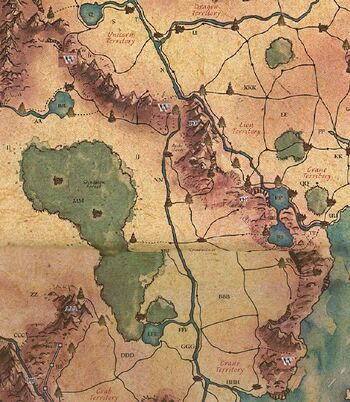 Mountain lions are rare, but travelers have to be aware of the risk in wilderness. [2]
External Links
Edit
References
Ad blocker interference detected!
Wikia is a free-to-use site that makes money from advertising. We have a modified experience for viewers using ad blockers

Wikia is not accessible if you've made further modifications. Remove the custom ad blocker rule(s) and the page will load as expected.