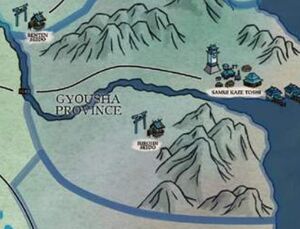 Seido Jurojin, Jurojin Seido, [1] or the Shrine to Jurojin, was dedicated to Jurojin, the Fortune of longevity. It was a small shrine located in Crane lands, near Umi Amaterasu. It stood in gardens which had been built at the command of Kakita Yasuhime, a Kakita Daimyo and artisan. They had been built as a celebration of the ninetyseventh birthday of Emperor Hantei XX, and were open to all visitors. A statue was placed at the base of a spring, and the waters were considered to be the purest and cleanest in the world. The healing properties of the waters were renowned, as they were rumored to heal all wounds of any who drank it almost instantly. [2] It was located in the Gyousha province. [3]
References
Ad blocker interference detected!
Wikia is a free-to-use site that makes money from advertising. We have a modified experience for viewers using ad blockers

Wikia is not accessible if you've made further modifications. Remove the custom ad blocker rule(s) and the page will load as expected.