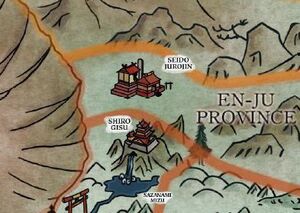 Seido Jurojin (P3), or the Shrine to Jurojin, was the largest temple of the Fortune of Longevity, Jurojin. [1] It was maintained by Brotherhood monks and many Asako priests, who venerated the Jurojin above all others. [2]
Founding
Edit
The site predated the Empire of Rokugan, as the Tribe of Isawa built a tiny temple to Jurojin on this site. Jurojin visited the site when he entered the Realm of Mortals, who remebered the dedication of the Isawa. When Asako founded her family, Isawa's siblings gave her the shrine, [2] located in the En-ju province. [3]
Pilgrimage Site
Edit
Located high in the mountains in the clan's western territories; the main temple was built atop cliffs and reached by a single twisting mountain road, [1] built by the Asako family. [2] It's distant location made pilgrimages rare, but all visitors were welcomed as an unusual diversion from daily life. A small village sprang up on the outskirts of the shrine, filled with those who wished to pray to the fortune for the secrets of eternal life. [4] Legendary Asako healers resided there, treat the sick and the wounded. On rare occasions the Fortune had visited the shrine directly, blessing it with miraculous healings. [5]
Dragon Refugees
Edit
When the Wrath of the Kami volcano erupted, many Dragon peasants fled to the Dragon Heart Plain and to Seido Jurojin. When the War of Fire and Snow began, the Isawa allowed that the Asako would show mercy. No Dragon would be allowed to carry weapons within the shrine, and none of the refugees would be allowed to leave, under vigilance of a contingent of Shiba Bushi. [2]
Known Masters
Edit
References
↑ The Atlas of Rokugan, p. 138
↑ Legend of the Five Rings; Third Edition, p. 295
↑ Great Clans, pp. 193-194
Ad blocker interference detected!
Wikia is a free-to-use site that makes money from advertising. We have a modified experience for viewers using ad blockers

Wikia is not accessible if you've made further modifications. Remove the custom ad blocker rule(s) and the page will load as expected.