Seff Seven-Fingers 
 
Born:
Unknown 
Died:
1132
People
Seff Seven-Fingers was a sand pirate, member of the necromantic cult of the Jackal, and lover of the Immortal Caliph for a time.
Demeanor
Edit
Seff loved adventure, wine, and women, as his friend Janan Barakah, a sand pirate, as Seff. With their competitive nature they provoked many scandalous affairs. [1]
Caliph lover
Edit
Seff took liking for the immortal Caliph Hanan Talibah, and they became lovers. The relationship was hazardous, and the Caliph had four Seff's trophies from these days, three fingers and an eye. [1]
Somehow Seff became a member of the necromantic Jackal organization. In 1172 he considered himself a redeemer of their order's acts, and came to an area filled with the ghuls the Jackals used to raise. He found atonement there, between the flesh-eater undeads. [2]
External Links
Edit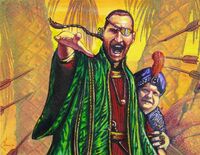 References