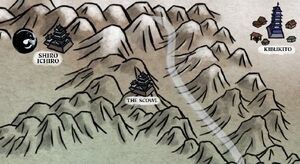 The Scowl was a Badger fortress in the Path of Woe built atop the escarpment opposite the dormant volcano known as Badger's Scowl. The large fortress had numerous windows looking down on the slope below, and samurai there were adept at throwing stones and hurling nage-yari. They used hidden steam pockets and hot springs nearby to prepare traps of boiling water or avalanches of sharp stone. The castle was destroyed by the rampage of Hideo no Oni in 1126, rebuilt later, overrun again in 1170 during the break of the War of Dark Fire, and rebuilt again after the Destroyer War. [1]
References
↑ Secrets of the Empire, p. 21
Ad blocker interference detected!
Wikia is a free-to-use site that makes money from advertising. We have a modified experience for viewers using ad blockers

Wikia is not accessible if you've made further modifications. Remove the custom ad blocker rule(s) and the page will load as expected.