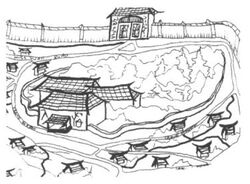 The Scorpion Garden was built in the Old Section of Ryoko Owari Toshi by the Twelfth Governor Shosuro Atsusuke, to commemorate an imperial visit. [1] It was renamed as the Shinjo Gardens during the rule of the Unicorn Clan. [2]
Activities
Edit
A small army of gardeners and attendants tended the plants and a small zoo of exotic creatures. Inside was the traitional Rokugani bath house, with shiatsu massages, large pools with different temperature waters, and places to have privacy to discuss schemes, scandals and society. [3] The bath house was one of the oldest city buildings, dating to the reign of the Second Governor. [1]
It was said the Second Governor cut off the nose of his adulteress wife. She looked normal while wearing the Clan's mask, but she could not go to the bath house without exposing her shame. A tradition began since, to wear a gauze veil while in the bath house. [1]
Shinjo Gardens
Edit
The garden was destroyed by the Crab when they razed the city during the Clan War. The Unicorn, new rulers of Ryoko Owari, rebuilt the gardens, now called the Shinjo Gardens. They contained the largest collection of gaijin plants and animals that existed anywhere beyond the Unicorn lands or Mantis Islands. The Unicorn chose not to rebuild the bathhouse, where innumerable Scorpion plots were devised. [4]
References
↑ Way of the Thief, p. 65
↑ City of Lies: Location Guide, p. 51
↑ Way of the Thief, pp. 65-66
Ad blocker interference detected!
Wikia is a free-to-use site that makes money from advertising. We have a modified experience for viewers using ad blockers

Wikia is not accessible if you've made further modifications. Remove the custom ad blocker rule(s) and the page will load as expected.