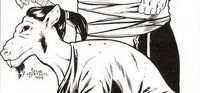 Scitch'ik was a nezumi who lived in the Shadowlands. He was saved by Hida Kabe from the attack of an Oni. after the incident the Crab returned to the Kaiu Wall with the nezumi and Scitch'ik became his trusted advisor. [1]
References
↑ Unexpected Allies, p. 37
Ad blocker interference detected!
Wikia is a free-to-use site that makes money from advertising. We have a modified experience for viewers using ad blockers

Wikia is not accessible if you've made further modifications. Remove the custom ad blocker rule(s) and the page will load as expected.