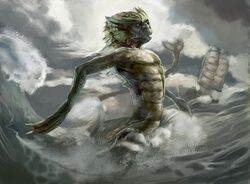 Sarassa was a thunder shugenja and Ningyo emissary to the Mantis Clan.
Ningyo Threat
Edit
With the Dark Naga's forces banished from the Empire and embroiled in a battle for control of the Second City, the creature's malevolent influence waned, and those who were enslaved to its will found themselves free once more. Sarassa warned the Empire a dangerous Ningyo warlord rose among the ranks of his people to punish the humans for his master's defeat at their hands. [1]
External Links
Edit
References
Ad blocker interference detected!
Wikia is a free-to-use site that makes money from advertising. We have a modified experience for viewers using ad blockers

Wikia is not accessible if you've made further modifications. Remove the custom ad blocker rule(s) and the page will load as expected.