Samarhad was an Ashalan Sun Rider member of the Nezumi.
Samarhad was the apprentice of Rashol. They improved the Ashalan tattoos of domination using crysteel needles. With them the Ashalan could thrall a human to their will. They experimented with animals, as Samarhad's horse, and discovered the animals had not aged since the process was performed. [1] His Moto Steed had lived more than two hundred years. [2]
External Links
Edit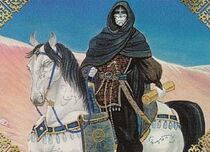 References
Ad blocker interference detected!
Wikia is a free-to-use site that makes money from advertising. We have a modified experience for viewers using ad blockers

Wikia is not accessible if you've made further modifications. Remove the custom ad blocker rule(s) and the page will load as expected.