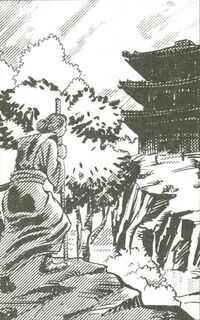 Sakura was a woman born in the days just after the Fall of the Kami. Her mother became a follower of the Kami, but Sakura believed that even gods did not bestow upon them knowledge of the heavens, so she wandered seeking enlightenment. She took a student, who always was finding fault with her words, and others followed. [1]
Shinsei once heard Sakura, and his teachings would guide Sakura's followers, who always taught the villages of the changes coming in the world, as Sakura did them. [2]
War Against Fu Leng
Edit
When Fu Leng appeared in Rokugan for Sakura it did not matter, enslaved by the light or enslaved by darkness was enslavement for her. Fewer students came to her then. The decission made by Shinsei to gather mortals, the called Seven Thunders, to fight Fu Leng, demonstrated Sakura's belief that gods would not be the salvation of Rokugan. [3]
References
Ad blocker interference detected!
Wikia is a free-to-use site that makes money from advertising. We have a modified experience for viewers using ad blockers

Wikia is not accessible if you've made further modifications. Remove the custom ad blocker rule(s) and the page will load as expected.