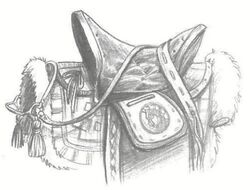 Saddle was a gaijin device of the Ujik-hai tribe, that was strapped to the back of a horse making riding much more comfortable for both the rider and the horse. The saddle would provide faster speeds and artificial handholds for the rider. It was quickly adopted by the Ki-Rin Clan, the Rokugani people later known as the Unicorn Clan. [1] The saddle was a thick, complex, sophisticated seat for the warrior, with attached stirrups that helped further stabilize the rider and allowed him to swing and strike with his full strength. [2]
See Also
Edit
References
Ad blocker interference detected!
Wikia is a free-to-use site that makes money from advertising. We have a modified experience for viewers using ad blockers

Wikia is not accessible if you've made further modifications. Remove the custom ad blocker rule(s) and the page will load as expected.