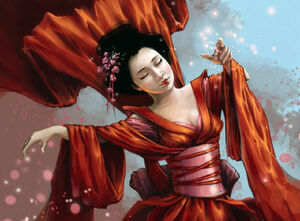 Sadahako was the Fortune of Geisha and Artists.
Sadahako was a beautiful geisha and an expert musician. It was believed she was the mistress of one of the Emperors, most likely Hantei VIII, who lived around the 5th century. He mourned her untimely death with great sincerity, and later declared Sadahako divine on his deathbed. [1]
Artisans revered Sadahako and prayed for her inspiration, particularly among the Kakita and Shiba families. [2] A Temple of Sadahako was built within the Small Holies at Ryoko Owari. [1]
External Links
Edit
References
Sources Conflict
The sources relating to this article are in conflict with each other.
In the RPG City of Lies: Location Guide page 39 states Hantei VII was the Emperor, but Hantei Yugozohime was the seventh Emperor of Rokugan, a woman. It is possible that it was in fact Hantei VIII's, Yugozohime's successor who declared Sadahako Fortune, as he is the only male Emperor in the 5th century.
Ad blocker interference detected!
Wikia is a free-to-use site that makes money from advertising. We have a modified experience for viewers using ad blockers

Wikia is not accessible if you've made further modifications. Remove the custom ad blocker rule(s) and the page will load as expected.