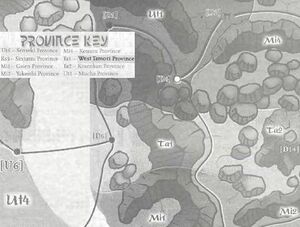 The Sabishii province was a Dragon province of the Tamori family, and contained Yamasura [1] as well as the Serpent's Tail Mine [2] and the Crystal Cave . [citation needed]
It bordered to the East with the other Tamori province, Kinenkan, with the Togashi provinces to the North, with the Gaien province to the South, and with the Unicorn Senseki province to the West, [1] having a fair amount of commercial traffic and occasional diplomatic visitors as well. [3]
References
Ad blocker interference detected!
Wikia is a free-to-use site that makes money from advertising. We have a modified experience for viewers using ad blockers

Wikia is not accessible if you've made further modifications. Remove the custom ad blocker rule(s) and the page will load as expected.