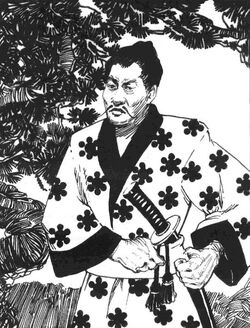 Ryuden was an outgoing, but not very tactful minor daimyo. His skill on the battlefield was much greater than his skill in the court. Ryuden came to the Asako winter court at Shiro Gisu to court Hantei XXXVIII's niece, Otomo Yoroshiku. He used to smoke in a tobacco pipe. [1]
Asako winter court
Edit
When a poetry contest was called, Ryuden demanded one of his servant to get him a poem which would woo Yoroshiku. Ryuden would pass the poem as one of his own. Another samurai, Shiba Himitsu made a poem which implied that Yoroshiku was not of the imperial line, so Ryuden challenged him to clean the slight. [2]
Himitsu's death
Edit
A drunk Ryuden went to Himitsu's room, and challenged him to a fight but Himitsu managed he left his chambers. He crossed with Kakita Nantoko, a maidservant of Yoroshiku. Shortly after Himitsu was found murdered, and several witnesses testified Ryuden was the assassin. [3] The investigation led to the real murderer, Kakita Nantoko, a Scorpion spy which had become mad. She was killed and Ryuden was released. [4]
See also
Edit
References
Ad blocker interference detected!
Wikia is a free-to-use site that makes money from advertising. We have a modified experience for viewers using ad blockers

Wikia is not accessible if you've made further modifications. Remove the custom ad blocker rule(s) and the page will load as expected.